E! On The Q
BARBARA WALTERS TO MAKE A HUGE ANNOUNCEMENT!!!
Barbara Walters will be announcing her formal retirement taking place in 2014 this morning on The View. Barbara has already said, "I am very happy with my decision and look forward to a wonderful and special year ahead for both The View and ABC News." CLICK HERE for more info!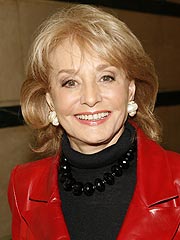 Photo courtesy of www.people.com
24 Returns To T.V
Fox Network is looking to bring back 24. It hasn't been officially confirmed, but my sources say that it's definitely happening. Kiefer Sutherland is set to return as Jack Bauer!!! He's back y'all!!! It's been 3 years since the show went off of the air.
We can't wait!
Justin Bieber Visits Springfield!
JB is headed off to Springfield. He's making a cameo on Sunday's episode of the Simpsons in which he of course plays himself trying to get into the talent show where Bart is performing. GO BART! GO BART!!
Randy Says 'Goodbye Dawg'!
The OG Randy Jackson said in a statement last night that he will not be returning to Amercian Idol next season. He said, "I am very proud of how we forever changed television and the music industry."
We will miss you DAWG!!!
Idol Wants A Change!
According to a very close Fox source, the producers of Idol want to find 4 new judges to replace the ones on the current season. One thing that the source says is a "for sure", is that Mariah is a gonner!!! They've even been toying around with idea of Simon, Paula and Randy returning!!! All for it!! We shall see.