Q Morning Show
STING RAY BAY AT THE MEMPHIS ZOO!!!
This Friday the Memphis Zoo will open a new exhibit called Sting Ray Bay. It is the first time that the Memphis Zoo has provided the opportunity for visitors to touch marine life. The exhibit contains two species of sharks and two species of sting rays with the largest stingray weighing in at a whopping 120 lbs. For more info, CLICK HERE!!!
Liz from The Q Morning Show feeding a stingray
NEW REALITY SHOW IN MEMPHIS!!!
Production has begun on a reality show with Leigh Anne Touhy that will film right here in Memphis starting in April. Leigh Ann rose to fame after she was portrayed by Sandra Bullock in the Blind Side and the reality show will be about the unsung heroes in America who foster and adopt children and it is set to debut in June. CLICK HERE to learn more!
Photo courtesy of www.southernliving.com
EASTER CANDY RECALL!!!
If you have already bought Easter Candy, make sure that you check it. The chocolate covered marshmallow eggs that come packaged in an egg crate are being recalled for salmonella contamination. No illnesses have been linked to the candy as of now but the confectioner is asking that you either destroy the contaminated packages or return them to the store. CLICK HERE to learn more about the recall!
Photo courtesy of www.abcnews.com
HOSPITAL ALLOWING PET VISITATION FOR PATIENTS!!!
A hospital in Chicago is one of the first hospitals in the country to develop guidelines on guidelines for allowing patient's pets to visit. After three years of research on cost, cleanliness and logistics they found that the emotional charge a patient gets from time with his or her own pet outweighs the risks. To get more info, CLICK HERE!
Photo courtesy of www.commercialappeal.com
TOUR DE GRIZZ ROLLS INTO 5TH YEAR!!!
Tickets are now on sale for the 5th annual Tour De Grizz. This is a super cool event and if you're not familiar with the way that it works what happens is bicycle riders get a ticket to see the grizzly bears at the Memphis zoo and from there jump on their bikes for a five mile, police-escorted bike ride to the FedExForum to see the Grizz take on the clippers. CLICK HERE to learn more!
Photo courtest of www.wmctv.com
JAZZ WEEK AT U OF M!!!
Today kicks off Jazz week at the University of Memphis. This week will include small ensembles taking the stage to play jazz classics and new modern interpretations. CLICK HERE for a full schedule of Jazz Week events!
Photo courtesy of www.utsports.com
FLOWERS FOOD TO BUY WONDER BREAD!!!
A bid from Flowers Bread for $360 Million dollars was accepted by Hostess yesterday for Wonder Bread. This means once it recieves final approval from bankruptcy court that we will begin seeing Wonder Bread back on the shelves and on our sandwiches. CLICK HERE to learn more!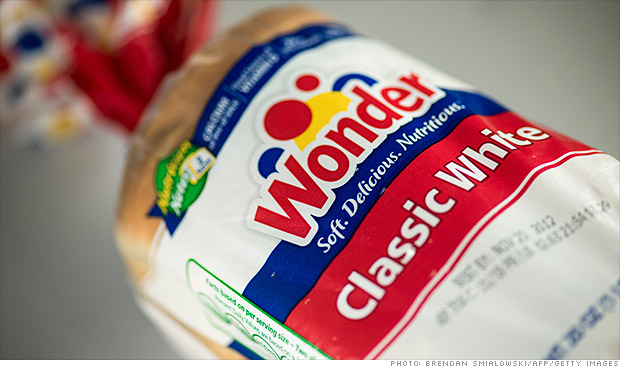 Photo courtesy of www.cnn.com
BEALE STREET MUSIC FEST ACTS WERE ANNOUNCED!!!
The line up for the Beale St Musical festival was announced for Memphis in May. Some of the tops acts include Sheryl Crow, The Black Keys, The Roots, The Wallflowers, Smashing Pumpkins, Jerry Lee Lewis and tons more totaling a little over 60 acts. The festival will be May 3rd through the 5th. For a full list of performers, CLICK HERE!
Photo courtesy of www.wmctv.com
NEW GRACELAND EXHIBIT!!!
A new exhibit is coming to Graceland allowing visitors to experience Las Vegas through the King's eyes. The exhibit has a wide variety of rare memorabilia and will even contain the first jumpsuit ever worn on-stage by Elvis in 1970. CLICK HERE to learn more!
Photo courtesy of www.wmctv.com
BOOTY ATTACK!
Bee Double Oh Tee Why Oh My! A Friday Booty Attack always does the trick! Click to hear CJ unleash the wrath of The Booty on some unsuspecting Memphian...
Audio clip: Adobe Flash Player (version 9 or above) is required to play this audio clip. Download the latest version here. You also need to have JavaScript enabled in your browser.
Stump CJ
Does CJ know everything about Memphis? It certainly seems that way...Click and listen to see if The Bluff City could "Stump CJ" on knowledge about the Mid-South...
Audio clip: Adobe Flash Player (version 9 or above) is required to play this audio clip. Download the latest version here. You also need to have JavaScript enabled in your browser.